Casting your spells at billions of bubbles has trained your magic so that now you're pretty wonderful with a wand!
The Magic Duel event will pit your skills against another magic dueller in collecting stars. The player who collects the most will be rewarded.
Test out those skills in the Magic Duel and riches could be yours!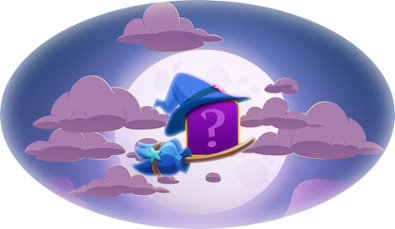 How does it work?
Every 24 hours the game will pair you with a randomly selected opponent, and the race is on!
Collect stars by passing new levels in the main game, or go back and play previous levels to pick up on those you missed the first time round. You'll only be able to collect stars not previously collected during the event, so if you play a level in which you won 2 stars before and win 2 stars again, no stars are added to your event total. Only new stars will make the grade.
A maximum of 3 stars can be collected for any level and the winner in a daily race will win Star Dust.
Keep up the pace and win the rounds and you might get the opportunity to play up to 7 opponents over a week and win even bigger rewards!
When can I play?
All of our events and challenges come and go, but you'll know when this event is active as you'll see pop ups and notifications in the game, and the event icon will be visible on your game map. You'll also see a timer showing how long before the event ends.
Keep a lookout for game notifications on your device too, which you might see when you're not in the game.
The event is active but I don't see it?
It's possible that you know someone with the event visible in their game when it's not available to you. Don't worry! With so many players, we sometimes have to spread the fun out a bit.
To keep our events manageable and visible to as many people as possible, sometimes groups of players access it at different times.
There's a chance that next time you'll have it when they don't, or another event your friend doesn't. Just keep an eye on your notifications, pop-ups and map buttons.