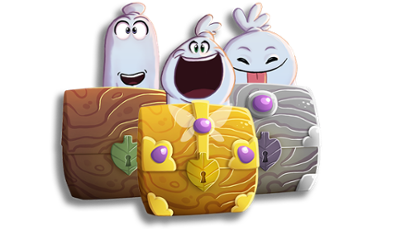 The Peek-A-Boo challenge is an event which will appear from time to time. Use your bubble popping prowess for the chance to win some bubbletastic Boosters to use in the game.
What do I need to do?
When the event is active, you will see three sparkling chests filled with magical prizes. Each one is watched over by a shy but friendly ghost, who will play peek-a-boo with you as they playfully hide from sight and peek out. "Boo!"
With every level you pass, you get one step closer to each chest. They are colored bronze, silver or gold so you'll know where you are in the sequence of three. Clear all the levels between you and the trunks of treasures and open each one up to receive the reward hidden inside.
What can I win?
Each chest in the trio will contain a reward, which increases with value as you progress through the different chests from bronze to gold. They could be Star Dust, Boosters or maybe some valuable Unlimited Lives. Well worth playing for!
When can I play?
All of our events and challenges come and go, but you'll know when this event is active as you'll see pop ups and notifications in the game, and the event icon will be visible on your game map. You'll also see a timer showing how long before the event ends.
Keep a lookout for game notifications on your device too, which you might see when you're not in the game.
The event is active but I don't see it?
It's possible that you know someone with the event visible in their game when it's not available to you. Don't worry! With so many players, we sometimes have to spread the fun out a bit.
To keep our events manageable and visible to as many people as possible, sometimes groups of players access it at different times.
There's a chance that next time you'll have it when they don't, or another event your friend doesn't. Just keep an eye on your notifications, pop-ups and map buttons.